This very text appears in the head­line of a news­pa­per in var­i­ous films and tv-series all around the world.
It is a fic­tion­al news­pa­per, used just for show. It has a famil­iar look but all con­tent is fic­tion­al.
Any idea why? Per­haps this:
At a guess: para­noid stu­dio lawyers don't want to use real news­pa­pers because they think that they might get a copy­right com­plaint from the paper (despite this inci­den­tal use being clear­ly fair use), so they insist that set-dressers all use the same prop that's ful­ly rights-cleared. #
The image even appears in adver­tis­ing clips.
https://www.youtube.com/watch?v=5G7bGBUlx2M
In Other News…
Anoth­er head­line states: Com­pro­mise Hous­ing Bill Sent to Pres­i­dent for OK.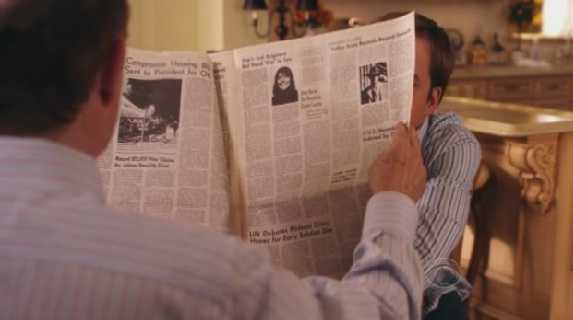 If you feel like com­plet­ing our knowl­edge of this fic­tion­al news­pa­per, here is a mosa­ic of oth­er appear­ances. Even more at: Crossover at Picasa.
Source: Red­dit