During this past long weekend I had the pleasure to entertain some of my good friends from Germany. They arrived by car on Friday evening and stayed three nights until Monday morning.
Long time no see
(Friday 17th) Having had two days off of work to prepare, I spent most of this first day making sure our apartment had enough room for four people to move around comfortably. The desktop was repacked into its box and the kitchen was emptied of all remaining dishes. My friends had already started their trip from Bavaria to Belgium around lunchtime, and some regular sms'es kept us informed of their progress.
By nightfall around nine o'clock they arrived in Antwerp. Their luggage was swiftly brought up to the third floor and soon dinner was on the table. This first evening was used to relax after the long drive and catch up on the latest affairs. It's surprising how quickly one can pick up and old language again. Within a few hours we were conversing more in German than English. Even Carmen pleasantly surprised herself.
In Bruges
(Saturday 18th) As Germans are known to be good eaters, breakfast would be accordingly: scrambled eggs on brown bread, and a mixture of apple juice and fresh strawberries to go with.
Outside was a rainy day. The weather report indicated this weekend would turn out no differently. Luckily I had prepared a 'Plan B' for just such an occasion. You will probably call this a cliché but my plan was to show them around lovely medieval Bruges. I had been there only a few times myself, making me reliant on long-forgotten university knowledge and improvised stabs at explaining the history of some buildings; I'm proud to say I didn't let myself down too much. ;-)
We found cheap parking besides the train station, right outside the city center. A few minutes walking through the narrow streets was all it took. There weren't many other sightseers around today. You'd see some hanging around the innumerable amount of Belgian chocolate shops, but today's weather probably cut down their usually higher numbers. When an overhanging dark cloud started to spill it's contents, we took that as a sign to head indoors and enjoy a good warm drink.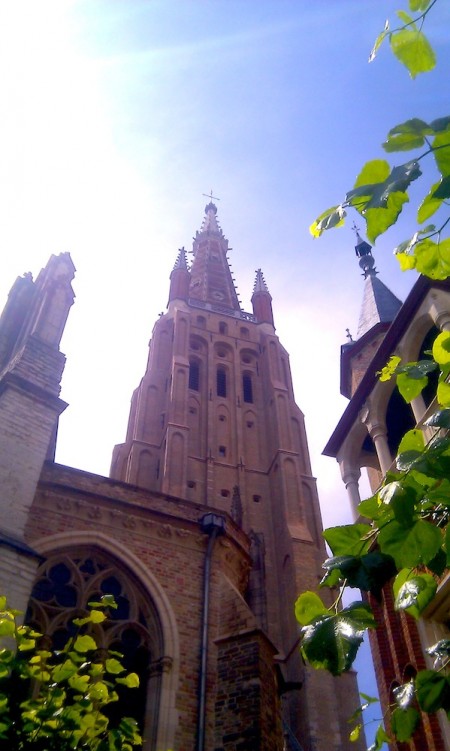 Timing couldn't be any better. Once our coffees, green tea and hot chocolate milk were finished, the Sun came out again. The first big monument we met was the Church of Our Lady. As one of my German friends is very fond of art history, she could have easily spent the entire day there, discovering interesting details. The men in our group wanted to see other things as well so we went ahead. Apparently the good people of Magnum were handing out free ice creams from a stretched black limousine. What a pleasant surprise! :-)
Our walk continued along well known streets like: Groeninge, Simon Stevinplein, Steenstraat towards the Markt, Breidelstraat, Vlamingstraat… and eventually ending up at the statue of Jan Van Eyck, overlooking the Spiegelrei. For the next half hour we ended up on a city bench enjoying some scarce rays of sunshine — a welcome treat.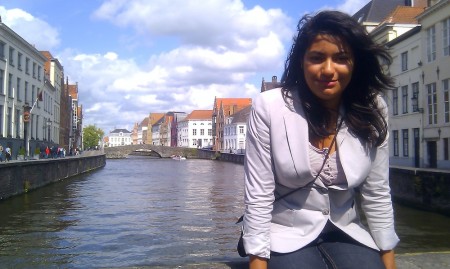 When the afternoon had turned into early evening it was time to head back home. Unsure of the store in Antwerp would be open on Sunday, we bought two boxes of chocolates from The Chocolate Line as a precaution. The drive back to the city went fairly smooth as the girls seemed to be sleeping it off on the backseat.
When in Rome…
(Saturday 18th) After a quick pit-stop to drop off some things it was on for dinner around the corner near the Royal Museum of Fine Arts. Apparently it wasn't necessary for me to reserve four seats at Da Vinci, they had ample tables available on this not so beautiful day. The food was fine as always. It really did the job.
With the night still being young, the choice was made to head for the Sinksenfoor. The funfair had arrived a few weeks ago but we hadn't had the chance to go look. It looked unchanged from last year, apart from "three new and exciting rides" according to their website. I ended up bumping my head against a low door in the ghost house, my friend won his girlfriend a Smurfette at can-throwing, and one of the new rides made me wish I should have never let Carmen convince me to get on it in the first place. We happily went home later that night.
The chocolates from Bruges and Belgian cheeses from the kitchen where hauled out while we played a game of Carcassonne for the remainder of the evening. As usual, the newbie won.
… do as the Romans
(Sunday 19th) After a good night's rest it was time to enjoy another one of Carmen's breakfast creations: American pancakes with maple syrup (???). Yes, even more sugar than yesterday. Belgium sure must look like a land of candy and sweets now. :-)
In stead of driving off like yesterday, I had planned a more relaxed afternoon for this last day of the week. Now that yesterday's public transportation strike was over, we took the tram to the city park. There was a small market near the new theater. That kept the girls busy for a while. Passing through the park, we showed our friends around the famous diamant area of Antwerp. They were surprised at how 'cheap' the buildings looked, compared to the riches that they held. Might be a PR thing? Next stop was the much praised train station of Antwerpen-Centraal. Our guests where stunned by the decor while I told them about the history of the 'middenstatie'. Somehow, if you pass through it in a hurry every day, a place loses much of its flair. Time to take things more easy and have enjoy a coffee on the sunny terrace of Caffènation. A great moment to sit down and relax.
Carmen wanted to show our guest some of the little known secrets of Antwerp. Take for example the hidden signs on the Hendrik Conscienceplein. Many have been there, but few recognize the secret symbols that are there. ;-) On to the Grote Markt now. Apparently on that day the German flag was missing from city hall. Even Nepal was there, but not our neighbour to the east. Strange, because Rostock is a sister city. And believe it or not but the Cathedral of Our Lady was closed on Sunday. Meanwhile it started raining again. We took that as another sign to start our dinner plans at Amadeus. Carmen had been begging for weeks, even months now, to eat some more spareribs. Knowing Bavarians like meat on their plate, it seemed like a perfect match. The atmosphere was great as usual and I think our guests enjoyed it very much.
With our bellies full of meat and the sky looking less grey by the minute it was time to head back south. We stroled along the quays while discussing the history of this place, the Red Start Line, castle Het Steen, etc. There was also a very interesting discussion about art and what it means to different people. I personally have some requirements before calling something 'art', but it was nonetheless challenging and stimulating to open your mind to new ideas. At home the discussions continued with more chocolates, cheese and tea on the table. What more could one wish for?
Time to say goodbye
(Monday 20th) In the morning Carmen had to leave early for work while I had my last day off. After a trip to the bakery we had a good breakfast. The weather report of the day indicated that it would not improve much and stay grey with the occasional rain shower. These past three days had come and gone like it was nothing. I thoroughly enjoyed it and am already looking forward to next time. :-)
⁂
Obviously, this post was written in English to accomodate those who do not speak or read Dutch. If this is a problem, I'm sure you'll find ways to automatically translate everything.
For those who know their classics, the title for this post was inspired by the 1953 film Roman Holiday with Audrey Hepburn en Gregory Peck.